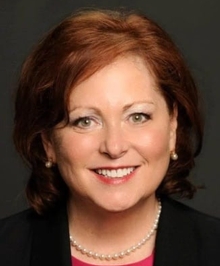 EDUCATION
B.B.A. in Accounting and Information Systems
M.A., Ph.D. in Human and Organizational Systems
Patricia "Trish" Oelrich
Board of Directors
CONTACT INFORMATION

V-Card
Patricia "Trish" Oelrich formerly chaired the Audit Committee of Pepco Holdings, Inc., a F500 utility company before it was sold to Exelon.
Currently, she is a member of the Audit Committee and Risk Committee of Federal Home Loan Bank (FHLB) - Office of Finance. The FHLB Office of Finance is the second largest debt issuer in the world.

During her career, Trish has been Vice President of Global IT Risk Management at GlaxoSmithKline Pharmaceuticals and member of the CIO management team. In that role she was influential in guiding the organization's risk management and technology strategies, including cybersecurity.

Previously, at SmithKline Beecham Pharmaceuticals, Trish had worldwide responsibility as the Vice President of Internal Audit. She transformed a traditional audit function to a risk‐based and value‐added audit and consulting function. Trish built a high performance team that was recognized as advisors throughout the company on strategic business issues.

She started her career in public accounting and served as a Partner at Ernst & Young responsible for leading a team of professionals in conducting financial audits information systems audits, and providing security consulting services to large financial institutions and insurance companies.

Trish, a CPA and CISA, holds a BBA in Accounting and Information Systems, and MA and PHD in Human and Organizational Systems. She is member of the Advisory Board for the Drexel University Corporate Governance Center. She is also on the board of the NJ Chapter of the National Association of Corporate Directors and co-chairs the Philadelphia Chapter of the Women Corporate Directors.

During her career, Trish has been active on various other industry and not‐for‐profit boards as Treasurer and committee chair.